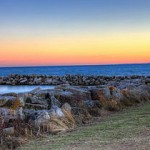 by Chris Gloninger, WISN.com
PORT WASHINGTON, Wis. —Ozaukee County's only breakwater wall is crumbling into Lake Michigan.
Repairs are being made in Port Washington, but it's not a permanent fix.
This wall's a source of safety for boaters. Port Washington Mayor Tom Mlada said preserving it is critical.
"Between Milwaukee and Sheboygan, you'd have 60 miles without a safe harbor," Mlada said.