Blade staff, T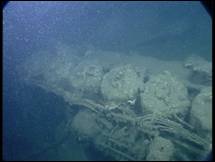 oledo Blade
The National Museum of the Great Lakes in Toledo, in collaboration with its partners the Cleveland Underwater Explorers, has identified a mystery wreck in Lake Erie as the schooner Plymouth that sank in 1852 after a collision with a sidewheel steamer.
In 1996, an unidentified shipwreck of a two-masted schooner was located in Lake Erie, 20 miles off Cleveland. In 2011, the wreck's existence and location were publicized, and in 2013 and this year, the Cleveland Underwater Explorers performed archaeological surveys to determine the identity of the wreck.
The work was funded by the National Museum of the Great Lakes, according to Christopher Gillcrist, executive director of the museum.
http://www.toledoblade.com/local/2014/09/18/Researchers-ID-mystery-wreck-in-Lake-Erie.html#wIbPW3dSbtzmhl3h.99